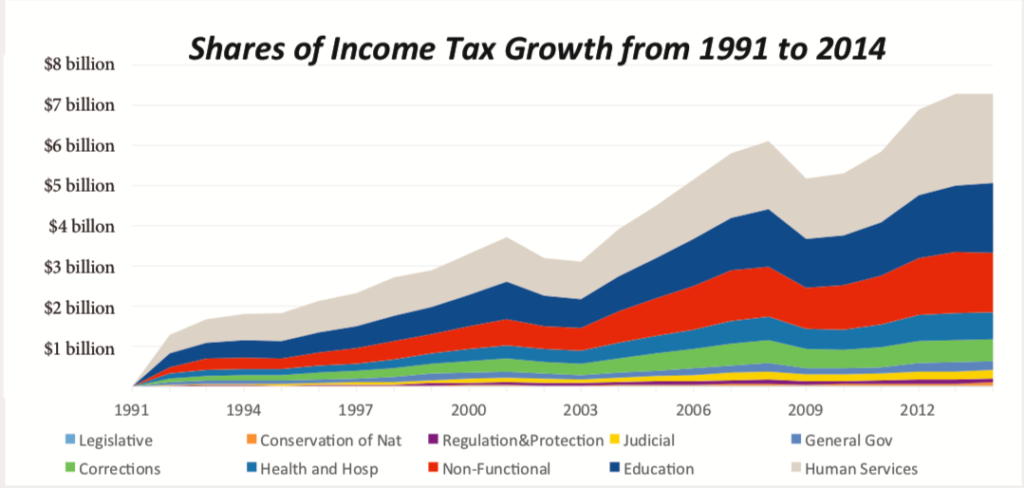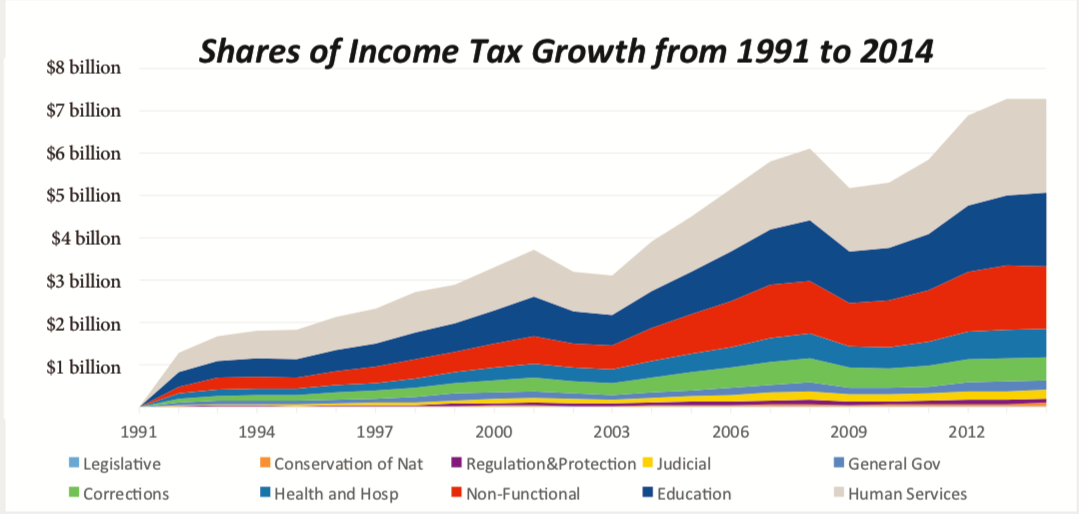 Connecticut's income tax is on everyone's mind. Some gubernatorial candidates are calling for its abolition in order to spur economic growth, while others say some taxes — although, not necessarily the income tax — must be raised to solve Connecticut's continuing budget problems.
Whatever may happen with Connecticut's income tax, it is clear that something went wrong.
Although the income tax brought in $126 billion between 1991 and 2014, Connecticut's government spending grew 71 percent faster than inflation, leading to budget deficits and, naturally, tax increases.
According to Pew Charitable Trusts, between 2002 and 2016 Connecticut consistently spent more money than it took in, averaging only 97 percent of revenue needed to meet expense demands.
No other state in the country has instituted a state income tax since Connecticut took the leap in 1991. Connecticut's budget grew from $7.7 billion in 1991 to roughly $20 billion per year.
So where did all the income tax money go?
According to Yankee Institute's study on the income tax entitled Where Has All the Money Gone? The 25th Anniversary of Connecticut's Income Tax, the money largely went to three areas: non-functional government spending, welfare, and the Department of Correction.
"Non-functional" spending by state government saw the biggest increase since passage of the income tax, growing 174 percent over inflation between 1991 and 2014. This spending category includes pension costs, retiree benefits, debt service, and some payments to municipalities. Debt payments make up a large share of the non-functional spending increase, according to the study. In 1991, Connecticut had $11 billion in outstanding debt. By 2014, it had increased to $22 billion. As of 2017, Connecticut had $25.5 billion in long-term bonded debt, according to the state's financial report, with an additional $48.9 billion in unfunded liabilities for pensions, OPEB, and other worker benefits. Nonfunctional spending was 17 percent of the state budget in 1991, according to the 1991-92 budget. As of 2018, nonfunctional state spending is 31 percent of the state budget, according to the Office of Fiscal Analysis.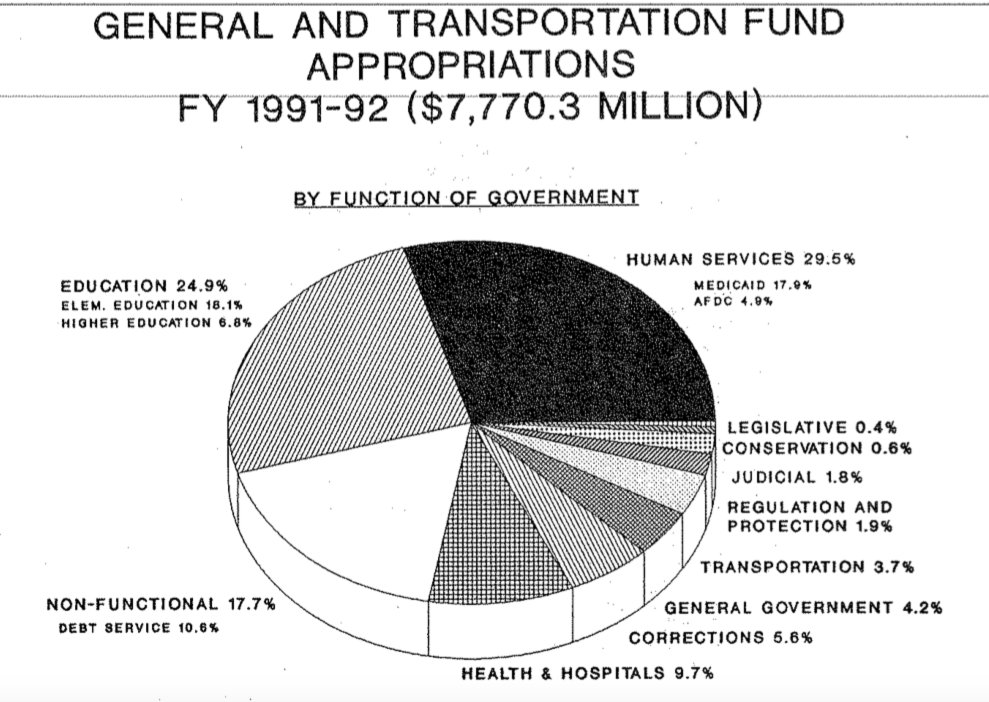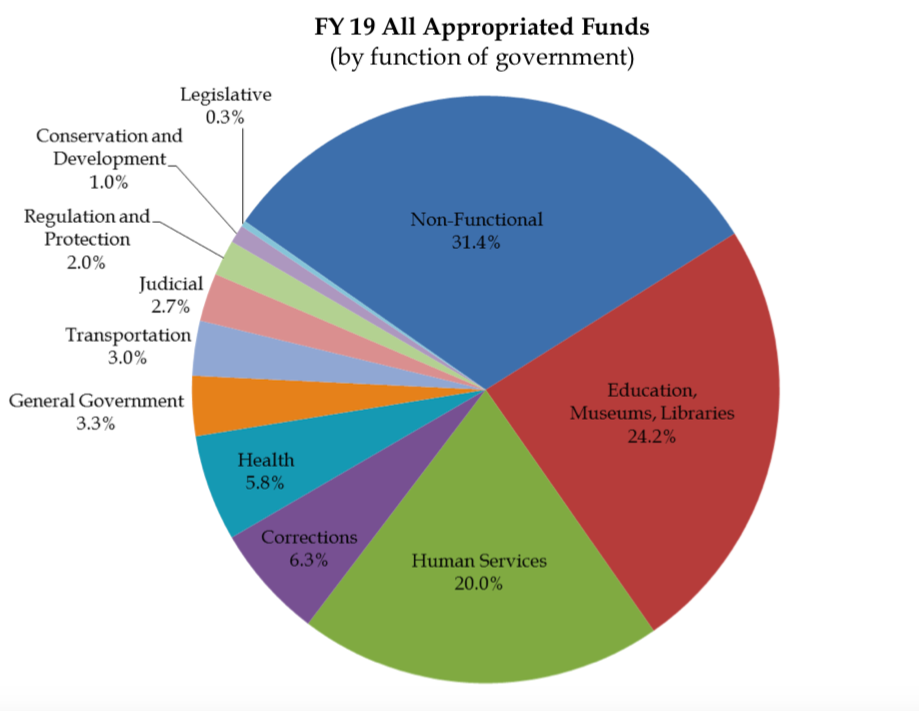 Welfare was the fastest area of spending growth after Connecticut passed the income tax. State spending on human services like Medicaid, the Department of Social Services and Temporary Assistance for Needy Families grew $1 billion, or 30 percent, in the three years following the income tax, according to the study. Medicaid spending alone grew 25 percent between 1991 and 1994, which amounts to $539 million in today's dollars. During the years of state spending growth after the income tax, however, poverty in Connecticut actually increased from 6.8 percent in 1990 to 10.8 percent in 1994. Connecticut's poverty level has hovered around 10 percent ever since. Connecticut currently spends $2.5 billion on Medicaid, which is 27 percent of the state's "fixed costs." Human services in general, makes up 20 percent of the state budget, which is markedly lower than the nearly 30 percent spent on human services in 1991.
Lastly, Connecticut saw a significant increase in spending for the Department of Correction. Spending on Corrections grew quickly during the 1980s. In 1991, it occupied 5.6 percent of total state government spending. DOC costs increased to 9 percent of the budget by 2009 but has since declined along with Connecticut's prison population. Spending on Corrections is now 6.5 percent of the budget, totaling $1.3 billion. Gov. Dannel Malloy has shut down some prison facilities to cut costs, but DOC overtime compensation for employees remains the largest source of overtime compensation for the state. In 2018, overtime at DOC cost $71.9 million. Overtime compensation is factored into employees' pension calculations.
Oddly enough, with the increase in state spending from the income tax, Connecticut's spending on education has actually declined. Before the income tax, education funding accounted for 31 percent of the state budget. Following the income tax, education spending dropped to 24 percent, where it has remained ever since.
Prior to the income tax, Connecticut relied on its state sales tax and the capital gains tax to fund all state government spending. Now, the income tax makes up 42 percent of state tax revenue, according to the OFA.
Although it has proven less volatile than the capital gains tax, Connecticut's income tax is still subject to fluctuation, largely because it relies heavily on a small percentage of wealthy residents and is closely tied to gains and losses on Wall Street. Those fluctuations can lead to larger deficits or better-than-expected revenue, depending on larger, national market forces.