Greenwich residents may soon be paying more at the grocery store. A town ordinance under consideration would ban plastic grocery bags and require stores to charge customers a minimum of 23 cents for recycled paper bags.
The ordinance is set to go before the Greenwich Representative Town Meeting on Monday where it may be amended and will then likely receive a vote on March 12.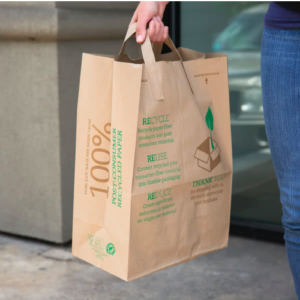 The paper bags sold by stores would have be composed of 40 to 100 percent recycled material and contain the words "Reusable" and "Recyclable" in a "highly visible manner" along with the name and location of the manufacturer and the percentage of recycled material.
Dana Ward, senior communication coordinator for Pennsylvania-based ACME Markets, which has a grocery store in Greenwich, says ACME is "disappointed" with the proposed ordinance.
"ACME participates in many green initiatives including recycling of plastic bags in our stores," Ward said in an email. "We believe that when ordinances such as this are dealt with on a local level, it is not only burdensome for our customers by charging a fee that does not currently exist in our stores, but also leaves us at a competitive disadvantage with retailers in neighboring towns who are not affected by the same ordinance."
Stores which violate the ordinance would face a $250 penalty for the first offense and $500 for any subsequent violation.
But, despite the onerous specifications on what type of paper bag a store must use and what it must say on the side of the bag, store owners could see profit made on the back of consumers.
A bundle of 300 Duro brown paper bags that actually meets the ordinance specifications costs $52.99 and ships free with a "plus" discount through the online Webstaurant Store.
This equals 17.6 cents per bag, meaning each bundle could potentially bring in up to $16 worth of profit for a retailer, depending on shipping costs.
New York Gov. Andrew Cuomo recently struck down a law which would have imposed a 5 cent fee on plantic bags in New York City for a similar reason. "I understand the political process to pass a bill can require placating potential opposition, but a $100 million bonus to private companies is beyond the absurd," Cuomo told the New York Times.
The ordinance may also drive up the cost to consumers as the extra burden of using fully recycled paper bags instead of plastic drives up overall operating costs for grocery stores. Plastic bags are cheaper to produce and purchase.
The grocery bag fee is being pushed by BYO Greenwich, a group trying to eliminate the use of paper and plastic bags and encourage Greenwich residents to switch to reusable canvas grocery bags to cut down on pollution.
BYO Greenwich's website says the fee is not a tax because it goes straight to the retailer rather than the town and "is the most effective way to institute an ordinance."
According to the group, although plastic bags are recyclable, between 5 and 32 percent of plastic bags "find their way into our environment and food system." The ordinance would not prohibit other forms of plastic bags, such as garbage bags or produce bags in a supermarket.
But the proposed ordinance is receiving pushback from another group of Greenwich residents.
Laura Gladstone of the Fiscal Femmes — a group of women advocating fiscally conservative policies — says this ordinance will drive shoppers across the state border to New York, hurt middle income families and retirees on a fixed income, and have no effect on the environment.
"It's really unkind. How could you hurt people who are already hurting?" Gladstone said.
The group argues that the reusable bag ordinance will hurt small businesses, does nothing for the public good because the fee is kept by the retailer, and will cost taxpayer money for enforcement of the ordinance.
"In short, we believe that the negative consequences of this proposed plastic bag ban far outweigh any small improvements in our local environment," Gladstone said in an email.
The Fiscal Femmes have garnered the support of Rep. Fred Camillo, R-Greenwich, and filed their own ordinance proposal on Thursday.
Their alternative proposal would require retailers to use recycled paper bags and offer a 5 cent credit — up to 20 cents per transaction — to customers who bring their own re-usable grocery bags. The Fiscal Femmes believe this proposal offers a positive incentive for customers to reuse bags.
The ordinance would also limit customers to 10 single-use plastic bags per transaction.
Grocery bag fees and taxes have been hot-button topics in Connecticut in recent years, and have often proven unpopular with the public.
Sen. Ted Kennedy, D-Branford, attempted to create a statewide tax on plastic grocery bags in 2017. The proposal passed out of the Environment Committee but never received a vote in the legislature.