When Nutmeggers think of highway tolls, they often think of border tolls, which would charge motorists entering and leaving the state of Connecticut. But that's not what Gov. Dannel Malloy and state legislators are proposing when they call for tolls to be installed on Connecticut's highways.
Instead, Connecticut would install congestion tolls — electronic tolling stations which would be placed along highways within the state and charge variable rates depending on the time of day and traffic congestion.
Critics have pointed out this means Connecticut residents will be paying 70 percent of the revenue collected from those tolls.
According to an I-95 congestion tolling study by the Department of Transportation, a full-length, one-way trip between New Haven and New York during peak hours would cost the commuter $6, while the same trip on the Merritt Parkway would be $5.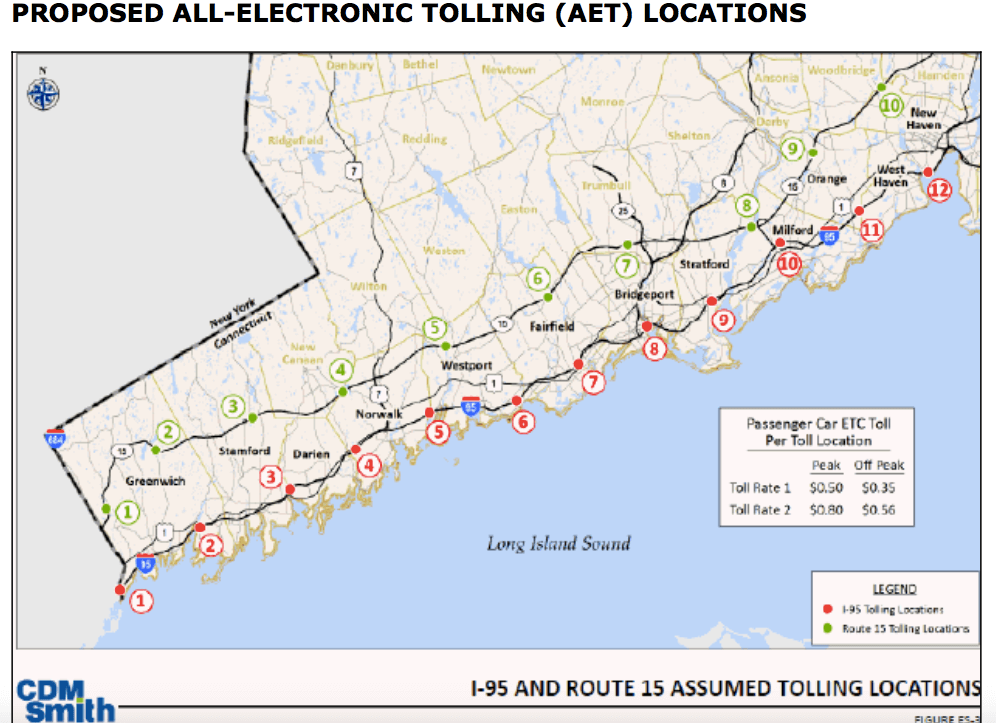 So why doesn't Connecticut just install tolls along its border like it did on 1-95 decades ago?
When Connecticut removed its tolls along its border on I-95, it essentially gave those up for good. Interstate highways such as I-95 and I-84 are controlled and regulated by the Federal Highway Administration.
According to a 2009 report from the Office of Legislative Research, when Connecticut agreed to remove its tolls in 1983, it gave up its right to collect revenue from those crossing the border. On the plus side, it also meant Connecticut would receive more federal transportation dollars and the federal government would fund repairs to those interstates.
This agreement remains in effect.
"Historically, federally-aided highways have been required to be toll-free," the OLR reports states.
The Obama administration attempted to lift this restriction in 2014 when President Obama proposed a new transportation bill, but the tolling language didn't make it into the final law.
There are some exceptions to tolling interstates, however, congestion tolling — also known as value pricing tolls. Other exceptions include adding and tolling an HOV lane or constructing an entirely new highway, both of which would likely be cost prohibitive for Connecticut.
Congestion tolling takes place within the borders of a state and charges variable toll rates depending on congestion and time of day. During times of heavy traffic like rush hour, toll fees will be higher. This type of tolling is meant to reduce congestion by either incentivizing commuters to use highways at off-peak times or carpool.
In some cases those tolls can grow quite hefty. On January 24th the toll on Interstate 66 just outside Washington D.C. hit $46.75 for 12 minutes during the morning rush hour. That figure was just short of the I-66 record of $47.25 just six days earlier.
But, what about other states which have tolls on their highways, like the Massachusetts Turnpike?
Those highways were essentially grandfathered in when the U.S. Government created the Interstate Highway System, but the tolls meant that no federal funds would be provided for "construction, reconstruction, operation or improvement of these roads," according to the OLR report.
Historically, states that wanted to install border tolls would be forced to pay back federal money it had received, although states rarely try since Congress established certain exceptions.
According to the OLR report, in 1984 Connecticut wanted to establish tolls on I-95 along the border with Rhode Island but was informed the federal government would require repayment of all the federal funds it had received since the previous agreement and would have to forfeit emergency funds related to the Mianus River Bridge collapse.
There have been exceptions to repayment of federal funds in the past, most notably for the New York Thruway, but it requires Congressional approval.
Unless Connecticut wants to gamble on approval by Congress and potentially have to repay large amounts of money to the federal government, its easiest option is to install congestion tolling, although it will still require some form of federal approval.
"There seems little doubt that if a toll project falling within one of the exception programs was pursued and the appropriate requirements met, federal funds repayment would not be an issue," the report concludes. "However, if a state were to act unilaterally in a way that clearly fell outside of the available exceptions to the federal toll prohibition there is no basis to conclude that repayment of federal funding would not be a potential problem."
However, it may prove a problem for Connecticut commuters when, instead of seeing tolls on Connecticut's state borders, they are paying them on their way to work.