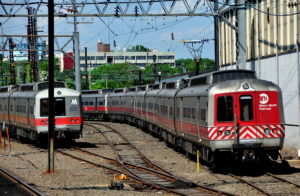 The cost of building a rail line between New Haven and Springfield, Mass., continues to rise, even as transportation needs in Fairfield County go unmet.
At its most recent meeting, the State Bond Commission approved another $155 million for the railway line connecting New Haven, Hartford and Western Massachusetts.
This is on top of the $1 billion the state was already planning to borrow to get the New Haven to Springfield line up and running. Besides laying and fixing track, the project includes building new train stations and widening a major bridge along the I-91 corridor.
The added funds will cover cost overruns for the project which is a year behind schedule.
The New Haven to Springfield line is a centerpiece of Gov. Dannel Malloy's short-term five-year transportation plan that he's branded "Let's Go CT!" The Department of Transportation estimates that once it's completed, about 2,200 riders a day will commute on the new line.
By comparison, approximately 125,000 riders cram into Metro-North's trains daily. Yet there is little plan to address the needs of Metro-North in the near future. While the 30-year plan includes $18.5 billion for Metro-North, little of that will be spent in the next five years.
Metro-North riders have become used to delays and late trains as part of their daily commute. It is hard to understand why the state is pumping money into the Springfield line when the Metro North line is overused and under-maintained.  
In fact, even though Fairfield County suffers with the most congested roads and railways, it is only slated to receive 13 percent of the total funding on transportation over the next five years, according to a Yankee Institute analysis of state transportation plans.  
Total spending on roads and rail between New Haven and Hartford will be $150 million more than between New York and New Haven.
Congestion research shows Fairfield County commuters have it much harder than travelers in the rest of the state.
Even with the challenges that commuters face on Metro North, they still choose to take the train. There's a reason for that – driving to work isn't much better.
Commuters spend 5.3 million hours a year sitting in traffic on I-95 in Fairfield County, according to a recent analysis conducted for the state by consultants CDM Smith and Economic Development Research Group.
No other region in the state compares – the next most congested region is on I-84, but the congestion there is only half as bad as Fairfield County's.
LEE SNIDER PHOTO IMAGES / Shutterstock.com