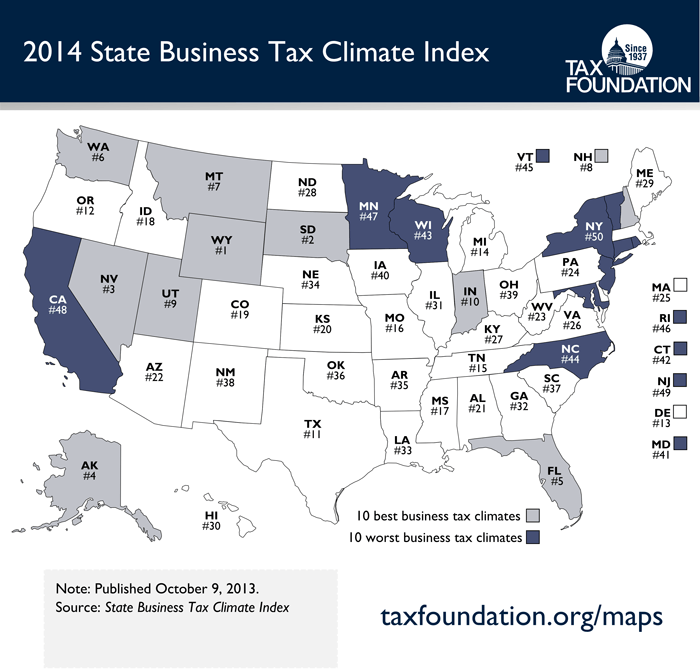 Connecticut's State Business Tax Climate is one of the worst in the nation according to a new ranking by the Tax Foundation. The Washington, D.C.- based think tank rated CT's business tax climate as #42 in the nation for 2014.
The Tax Foundation study is based on a comparison of the tax systems in all 50 states and five major tax categories: the corporate tax, the individual income tax, the sales tax, unemployment insurance tax, and the property tax. Connecticut's stat line across these measures leaves little room for encouragement: The state ranks 35th, 33rd, 32nd, 23rd, and 49th in the nation, respectively.
Connecticut's geographic neighbors are nearby on the new rankings, too. New York is the worst in the nation, New Jersey is 49th, and Rhode Island is 46th. Massachusetts is in the middle of the pack at 25th.
Not every New England state is struggling, however. New Hampshire's reputation as a tax haven is well-known and the Tax Foundation study highlights the reason. Ranked 8th overall, the Granite State is one of the worst on corporate taxes (48th), unemployment insurance taxes (46th), and property taxes (42nd) but one of the best on income taxes (9th) and is the best in the nation on sales taxes.
Other states are pursuing tax reform as a way to make their states more competitive economically. North Carolina adopted a major tax reform package in 2013 and Nebraska's legislature will consider reform in 2014. Connecticut can and should do the same.