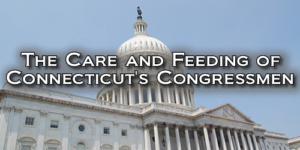 TRANSPARENCY FOR THE FIRST TIME
Published on August 8, 2009 by the Yankee Institute for Public Policy
How much responsibility does any single member of Congress have for the $3 trillion Federal budget? It's impossible to say. Like a football team, so many people contribute to the success or failure of each play that one is never able to assign sole responsibility for any outcome to the actions of any one player.
But there is one area of spending that is completely under the control of a single member of Congress: his or her own office budget.  Members are allocated more than $1.3 million each year to spend at their own discretion.  This money covers items including staff salaries, transportation to and from Washington, rent, office supplies, and communicating with constituents. Any money not spent at the end of the year stays in the Treasury.  That is, a frugal member of Congress directly saves taxpayers money.
For the first time anywhere online, the Yankee Institute is bringing sunlight, transparency, and disclosure to how Connecticut's members of Congress spend their personal office budgets. Every line item of office spending for Connecticut's five members of the House of Representatives for the 110th session of Congress (2007-08) – some 10,000 line items covering nearly $13 million in spending – is now published and downloadable here.
For years, Congress made it nearly impossible for the public to see how individual members spend their personal office budgets. The Chief Administrative Officer of the House publishes a quarterly report called "Statement of Disbursements of the House," but these reports are not available online. They are only available in paperback, each volume comprised of more than 1,000 pages of tiny print. These tomes are only available in a small basement office at the Capitol or in select Federal Depository libraries. Even then, the reports lag months behind.
It's enough to make one think Congress doesn't want the public to see how members spend our money. The recent scandal involving British Members of Parliament grew out of a similar lack of transparency.
Yankee's review of the reports includes these key findings:
• Congressman Joe Courtney was the highest-spending member of Connecticut's delegation. Courtney spent 99.3 and 99.7 percent of his annual budget in the past two years. In 2008, Courtney left just $4,432 of his budget unspent.
• Congressman Chris Murphy sent the most franked mail – 1.3 million pieces – of New England's 22 members of Congress.
• Six Connecticut staff members were paid more than $100,000 in 2008.
• Rep. Courtney's Chief of Staff, Jason Gross, was paid $151,411 in 2008, making him the highest-paid staffer in the House delegation.