During a campaign rally on the eve of election day, Virginia Republican gubernatorial candidate Glenn Youngkin told supporters in Richmond, "Friends, we don't want to be Connecticut."
The former CEO of The Carlyle Group spoke to rally-goers on November 1, saying he would eliminate Virginia's grocery tax, lower the gasoline tax, issue tax refunds to state residents and reduce business taxes and regulations.
However, Youngkin's criticism of Virginia's business climate and economy included throwing some shade at Connecticut over the growth of small business.
"Virginia's entrepreneurs and job builders have to get started. We are ranked 49th in the nation as best place to start a business – 49th! Only Connecticut is worse," Youngkin said. "Friends, we don't want to be Connecticut."
Youngkin was apparently referencing a report published on The Motley Fool, which ranked the best states to start a small business, based on factors such as tax climate, consumer spending, labor costs, rate of entrepreneurs and five-year business survival rate.
According to that report, Virginia ranked 49th in the nation, just ahead of Connecticut, which ranked 50th.
The rankings were based on a variety of sources, including the Kauffman Indicators of Entrepreneurship, which found Connecticut was dead last for the survival of small businesses in their first five years and last overall, according to Kauffman's Early-Stage Entrepreneurship Index.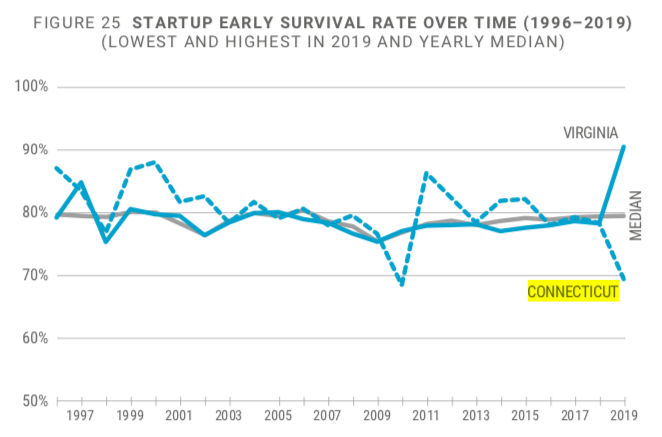 Wallethub also ranked Connecticut 49th in the country for the best state to start a business, however, it also ranked Virginia at 41st.
Connecticut has endured some of the slowest economic and job growth in the country since the 2008 recession and never fully regained all the jobs lost during that period before the COVID-induced recession resulted in thousands of businesses being closed and hundreds of thousands of residents put out of work.
The hotly contested gubernatorial race in Virginia between Youngkin and Gov. Terry McAuliffe is being watched by the nation as a possible bellwether vote for President Joe Biden's leadership and an indicator of what may be ahead during the 2022 election cycle.
The Virginia race has also focused heavily on the state's education system, particularly accusations of race-based teachings in schools – an issue also at the forefront of several board of education races in Connecticut, where political rancor has divided some normally quiet towns.
Youngkin said that the difficulty in starting a business in Virginia is leading entrepreneurs and young people to other states, like nearby Tennessee.
"We have to have incubators, accelerators and capital formation and slash the process for getting a business started so entrepreneurs can live their dreams here and not go to Nashville or someplace else," Youngkin said.