An employee with the Department of Children and Families has tested positive for the COVID-19 virus, according to an email sent today by DCF Commissioner Vannessa Dorantes to all DCF staff members.
"We have received confirmation, and have been given permission to share with you, that an employee in the Department of Children and Families Torrington Office has tested positive" for the COVID-19 virus.
"This is not unexpected given the nature of the virus' transmission," Dorantes wrote. "Our thoughts and prayers are with this member of our DCF family."
The email goes on to say that the Torrington DCF office "is currently undergoing a thorough cleaning and disinfection prior to staff re-entering the building."
DCF social workers are classified as essential employees and have to go from home to home to monitor the well-being of children who are under observation by the department.
That includes entering the home to conduct interviews and to be sure there is appropriate food and conditions for the children in that home, however emails from the Commissioner face-to-face meetings will be postponed in favor of a "consistent schedule of virtual contact."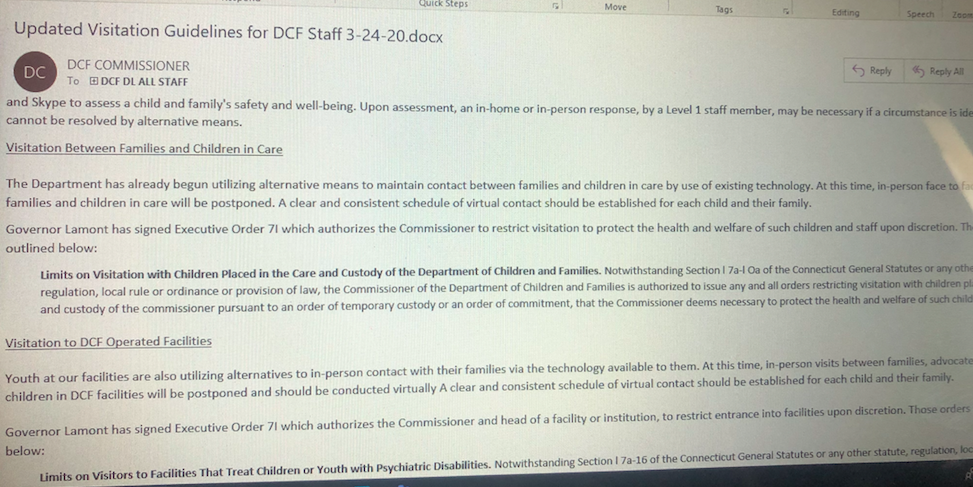 Some social workers indicated they are making phone calls ahead their scheduled visits to ask if anyone in the home is experiencing flu-like symptoms or conducting the check-in from the front porch of the home.
The email from Dorantes also indicates that social workers are trying to "maximize their telework capability."
However, a shortage of protective equipment such as gloves and face-masks means those workers can not only become infected rather easily but can also carry the virus to other meetings, according to sources within DCF.
The Commissioner encouraged DCF employees to continue practicing social distancing and to wash their hands often.
But the spread of the virus will likely present a problem for DCF workers monitoring the health of children and families.