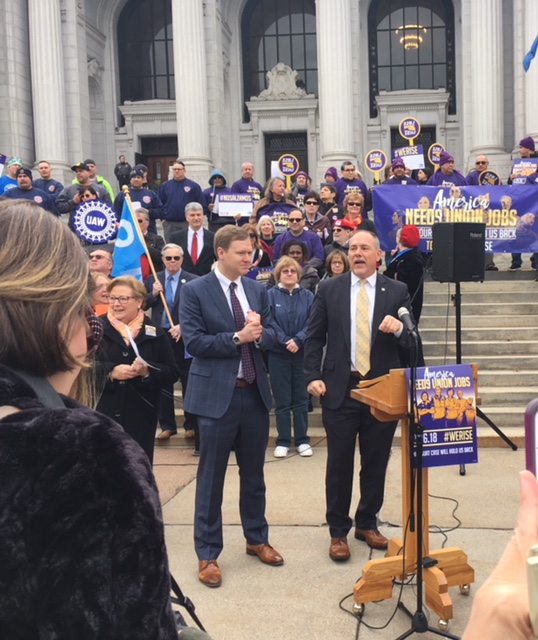 A senior Democratic lawmaker in New York plans to introduce a bill to sidestep the Supreme Court's Janus decision by including collective bargaining costs in union contracts, making taxpayers — rather than union members — foot the bill.
A memo from Richard Gottfied, D-Manhattan, was obtained by the Empire Center, a New York public policy think tank. In it, Gottfried says including collective bargaining costs in the contract would proportionately reduce workers' pay, but the Empire Center said such reductions are unlikely.
The move — combined with New York Gov. Andrew Cuomo's executive order hiding state employee contact information from Freedom of Information requests — raises questions of how Connecticut unions and lawmakers may react to the Janus decision.
Connecticut Comptroller Kevin Lembo said the state will no longer collect agency fees from more than 7,100 employees who resigned union membership, but the governor's office also indicated they will seek to protect the rights of workers to organize.
According to numbers provided by the Comptroller's Office, Connecticut's state employees were contributing $34 million per year to their various public sector unions through dues and fees.
The Janus decision will cost those unions nearly $3.4 million in lost agency fees, but future employees may choose not to join the union at all.
The Supreme Court decision said employees must affirmatively consent to the deduction of dues and fees, ending the practice of automatically deducting dues and fees as a condition of employment with the state or a municipality.
The possibility exists that new employees may not give consent, meaning the long-term effects of Janus may outweigh the immediate consequences.
Numbers out of Michigan since the state implemented "right-to-work" legislation in 2012 show significant declines in membership for some unions over five years, notably SEIU Healthcare which saw an 82 percent decline. However, some unions — such as the United Auto Workers — saw an increase in membership.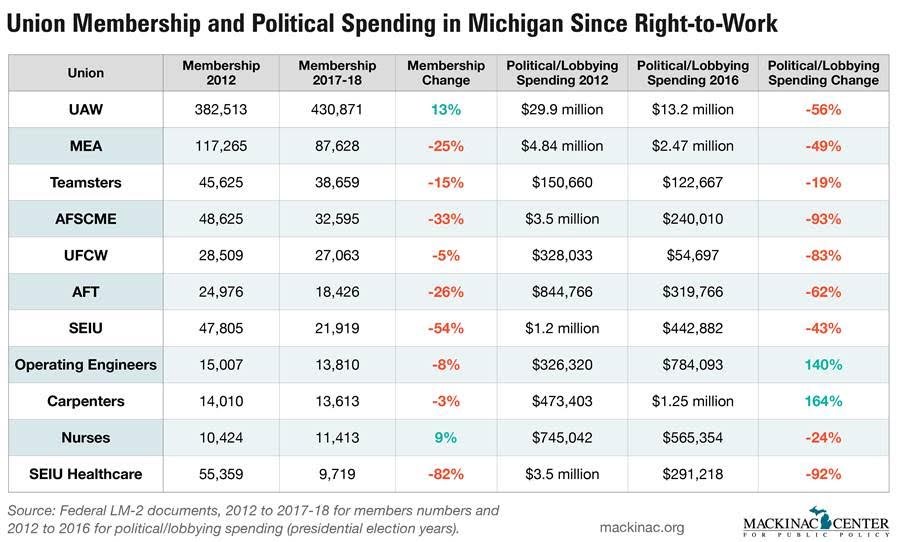 The decreased membership coincided with a significant decline in political spending by those unions, according to Michigan Capitol Confidential.
The prospect of potentially losing a significant portion of their membership means unions and union-backed lawmakers in Connecticut who benefit from union political spending will look for ways to decrease the impact of Janus.
Gov. Malloy — who rode union support to two election victories — said in a press release that Janus "is a blow to the ability of unions to effectively represent the interests of the workers they are charged with defending."
Secretary of the Office of Policy and Management Ben Barnes told the Hartford Courant the administration will issue guidance to state agencies in the coming weeks to "comply with the Supreme Court decision while protecting the long-standing and valuable rights of workers to organize."
With 94 percent of Connecticut's state employee workforce unionized — and with many union allies in the legislature, including AFSMCE employee and Speaker of the House Joe Aresimowicz — a similar bill in Connecticut may not be out of the question.
But legislative work-arounds are not limited to the state. Democratic mayors in heavily unionized cities such as New Haven and Bridgeport signed a pledge to give unions more access to new employees, ensuring rapid transmission of employee data to union databases, and standardizing opt-out windows, according to the Mayors Stand With Working Families website.
Any changes like what is proposed in New York would likely be attempted first in Connecticut's municipalities, where wage contracts are constantly renegotiated.
Municipalities are funded through property taxes, so including collective bargaining costs in municipal wage contracts would mean added pressure for property owners.
Connecticut state employee wage contracts were passed with the 2017 SEBAC agreement and generally extend to 2021, but legislative changes to what can be collectively bargained can take place at any time.
Such changes will also hinge on Connecticut's upcoming elections which will bring a new governor and potentially shift the balance of power in the legislature.