The Parent Express – a party bus loaded with education materials, books, and volunteers – took to the road on Wednesday to visit school children and parents in 10 different cities and promote the joys of learning for both children and their parents.
The annual bus tour run by the Connecticut Parents Union – an education advocacy group – is staffed with high school volunteers who dress up as movie characters and distribute children's books donated by various companies, like Scholastic.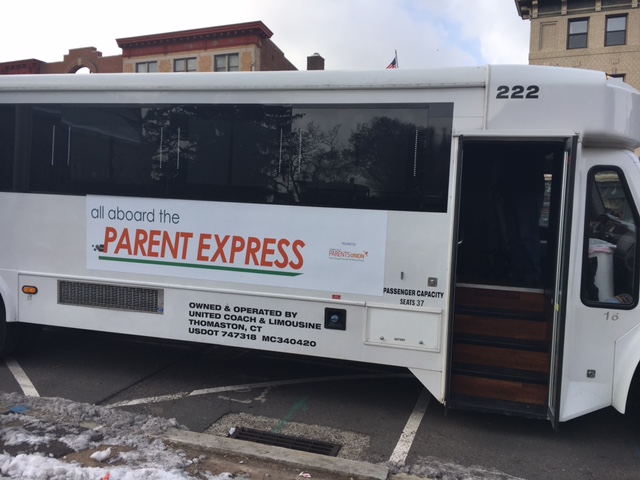 President of CTPU Gwen Samuel says the bus is all about delivering a positive message to children and parents about the importance of education.
"Literacy equals liberation," Samuel said. "The goal is for our children to be free to learn, to create healthy environments to learn and grow."
The bus has reached more than 4,700 children and 600 parents to date, according to Samuel, and stops at schools across the state from Waterbury to New London, focusing on poor-performing school districts.
A positive message about education may be just what the state needs right now. Connecticut's schools have been under a legal microscope for the past decade, following two major court decisions.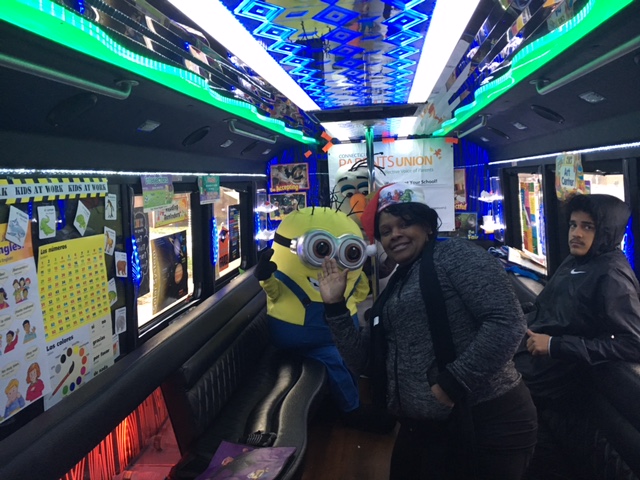 In its 1996 Sheff v. O'Neil decision, the Connecticut Supreme Court ruled that racial segregation in the Hartford school system violated students' constitutional rights prompting the city to build a number of magnet schools.
The success of those magnet schools has been in dispute lately, after a report found that some of the best Hartford magnet schools had empty seats because the school could not meet racial quotas, leaving Hartford students in failing schools.
A state audit also found that magnet school officials were bypassing the lottery system to admit particular students, particularly star athletes.
More recently, Superior Court Judge Thomas Moukawsher ruled that Connecticut's education funding formula was "irrational" and needed to be revised. The judge's decision was the result of a lawsuit by the Connecticut Coalition for Justice in Education Funding.
Although Connecticut is home to a large number of very good schools, it is also home to one of the largest student achievement gaps in the country, largely split along the lines between low-performing city schools and high-performing schools in suburbs.
State budget challenges added to school financing pressures this year when the legislature had to close a multi-billion budget deficit.
Even though the legislature did not cut funding to most schools, it didn't increase the funding either. Rising costs at the municipal level mean that although most schools were not cut, they would still have to do more with less.
However, after passage of the budget, Gov. Dannel Malloy cut $91 million in state municipal aid because the budget required him to find $182 million in state spending cuts. The reduction affected every school municipality in the state.
But Samuel and the CT Parents Union kept their six-year tradition of delivering a positive message alive by bringing the Parent Express to schools and children across Connecticut.
"Everything here is a message," said Samuel. "It's positive reinforcement. We show the importance of investment in our children. We show them they can be anything they want to be."