Search
Fall 2013 Internship Program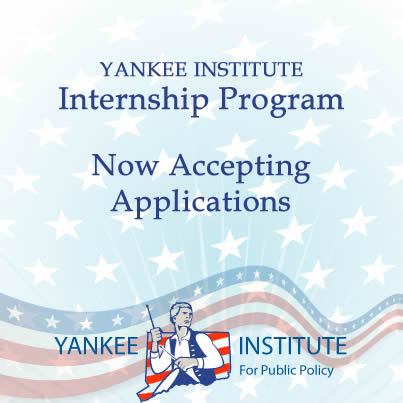 The Yankee Institute Internship Program continues to accept applications for the Fall 2013 and Spring 2014 semesters.
Yankee Institute internships offer college students with a minimum 3.0 GPA the opportunity to learn about public policy in Connecticut, develop a working knowledge of the state budget, consider current events in the context of public policy, and improve research skills, teamwork skills, and time management.
Responsibilities include serving as a research assistant to Yankee staff, office administration, event coordination and support, and other tasks as assigned by staff. Opportunities exist for an intern's work to be published by the Yankee Institute with attribution.
The internship program accepts full-time (32+ hours/week) and part-time (20+ hours/week) applicants. College course credit may be available. Prospective interns are responsible for all matters related to securing course credit. Small stipends are available.
Apply by sending a current resume and cover letter describing your interest in the Yankee Institute to Deputy Director Heath Fahle. Applications are reviewed on a rolling basis. All internships are performed at the Yankee Institute offices, 800 Connecticut Blvd, Suite 302, East Hartford, CT.
Home Care Daily highlights a report from the Yankee Institute on union deductions.
Read More
The Connecticut Parents Union filed a lawsuit in federal court on February 20 against the state of Connecticut alleging racial quotas meant to keep the state's magnet schools diverse are actually preventing minority students from gaining access to those schools. The lawsuit is the second of its kind making its way through ...
Read More